#justbecause pretty jewelry doesn't always have to be new… the majority of the jewelry that I wear daily is repurposed in some way!
Repurposed? I know that you are probably wondering what I mean by that… by repurposed jewelry, I mean that it was recently designed/altered to be worn in a different way than originally intended!
In addition to repurposing "traditional jewelry", vintage designer finds (think buttons & zippers) make for the perfect repurposed pieces as well!
What I love most about repurposed jewelry is that it allows you to be creative & show your personal spark through your looks! …And without further ado, let me share some of my own favorite repurposed jewelry pieces with you!
This post may contains affiliate links see disclosure.
Earring –> Ring
One of the first pieces of jewelry that I ever repurposed was this ring! A quick story for you- a long time ago, I was running late to school, and as I was running into the building, my backpack knocked my earring out of my ear. After days of searching that parking lot, it ended up being a lost cause. So there I was with 1 earring left, and had nothing to do with it! (I am the opposite of a mismatched earring person lol, so I was not going to wear just 1 earring).
Luckily I knew a pretty phenomenal jeweler – Rosnov Jewelers – who took my crazy idea and brought it to life! I asked to make my remaining 1 earring into a ring! And here is my repurposed vision brought to life: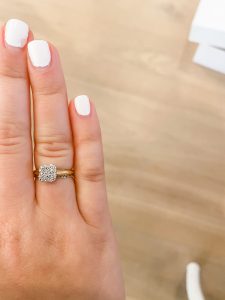 Chain & Earring –> Necklace
This one does not have as good of a story, but… I repurposed this necklace with my mom's jewelry from when she was my age! I wanted to switch to an all gold jewelry look – but was not going to go out and buy all new pieces when I had so many pretty things already to work with! What I did instead – I made a necklace with what we had! Thanks to the amazing Rosnov Jewelers again, I took this floral diamond piece (originally another lost earring half) and asked them to put it on one of my mom's old gold chains!
Pearls & Chain –> Pearl Necklace
While I was thinking about how to repurpose the necklace that I just discussed above, I also found some loose pearls while going through my mom's jewelry! She had another gold chain & 6 pearls so we made matching necklaces! Thanks again to Rosnov Jewelers for remaking this look as well!
Ring & Chain –> Necklace
This one is a little different, but just as creative! I received this ring as a gift for my birthday, but had no finger to put it on! (What a real-world struggle – I know lol). Anyways, it dawned on me that I could easily turn this into a necklace with a pretty gold chain & ta-da! This necklace was made! (And the best part about this piece is that I can change it back to a ring whenever I want!)
Pocket Watch Chain –> Charm Bracelet
This piece is not mine, but I cannot stop admiring it, so I have to share it! The chain on this bracelet is actually from the owner's grandfather's pocket watch! She then worked with a jewelry designer to layer it and turn it into a bracelet. The best part, she added three charms, each with her children's initials! This piece highlights the sentimental value that can go into repurposed jewelry as well!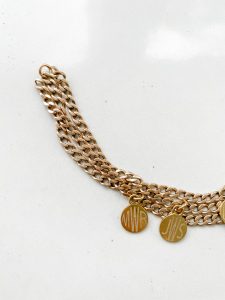 Repurposed Vintage Designer Jewelry
As I mentioned before, vintage designer pieces also make for the best, repurposed jewelry! Two brands that I want to highlight that create these pieces are:
BoujeeByGigi creates repurposed jewelry looks with authentic designer pieces! Whether it is a button, a zipper, or anything else found from designer items, BougeeByGigi repurposes it into jewelry! BoujeeByGigi ensures the authenticity of all their pieces, and then gets creative with how to repurpose them into pretty looks! From necklaces to bracelets, and even belts coming soon – I cannot get enough of it!
Pretty little tip: you can use my code "justbecause20" for 20% off of their pieces!
Another repurposed designer jewelry brand that I want to highlight is Bijoux Upcycled! They are a Candian small business that also repurposes designer pieces to create vintage upcycled jewelry! I could not be more excited to wear my new Bijoux Upcycled chunky Chanel choker this fall & winter! It is going to be the perfect finishing detail to all of my outfits!
Whether you repurpose your own jewelry or search for some repurposed designer pieces, I hope that this post inspires you to get creative and think about jewelry in a pretty new way!
Xoxo, Rachel