We all love celebrating birthdays, holidays, and events with friends & family, but sometimes it is hard to put together the perfect party for the occasion. That's where I can help… I've created 7 guidelines to help you plan and throw the perfect pretty party for any occasion that you are celebrating! 
To note, the pictures shown below are from a boozy par-tea that I planned for my friends… for more pictures check out my Pinterest Board.
Check it out below so that you can start planning your perfect party!
Theme
Picking one theme and sticking to it makes the rest of the planning process simple. A theme could be ANYTHING. Literally anything. From a birthday theme to a pirate theme, the options are endless. Get creative with this as it sets the tone for the rest of the party!
If having a set theme isn't your style, simply pick an aesthetic to base the rest of your planning around. For example, florals, modern, or even shades of blue. Having this in the back of your mind will allow you to pick decor, food, and entertainment that creates a cohesive, put-together look.
Decor
The decor is the first thing that your guests see when they come to your event… why it is so important! It sets the "vibe" of the party; is it a serious occasion, a fun one, etc. Balloons, banners, table settings, flowers… everything that accessorizes the room(s) falls into the decor category. This is where you can get creative. My biggest piece of advice with decor is to stick to your theme or aesthetic (talked about above). It will make picking out your decor a piece of cake!
Are you stuck and need decor inspiration? Check out Pinterest & you will have a million ideas. Type in ____ (you fill in your theme/aesthetic) decor and you will have a plethora of options to choose from, buy, or create yourself to make your party unique & yours!
Food
All guests are going to be wondering what type of food you are serving… because that is everyone's favorite part of a party, right?! Think about a few things before you decide on food: what time of day is the party (aka do you need breakfast or dinner food), does anyone have dietary restrictions, are you serving a full meal or just snacks, will people have a place to sit down & eat, or do they need finger food that they can eat standing? Take all of this into consideration when planning your menu.
Food is another area where you can get creative: how can it enhance and go with your theme/aesthetic?! Say you are having a hoedown-themed party, why not serve all southern styled food? Since I was throwing a boozy tea party, I made all pretty little food on skewers that resembled what you would have at tea time!
Lastly, with food, make sure that you have ENOUGH. The last thing that you would want is a guest going home hungry & being hangry at the party… it is always better to have leftovers for yourself the next day!
Dessert
Because what is better than any meal… dessert! Whether it is a cake, cupcakes, cookies, cake pops, dare I say fruit, you name it, we all have sweet tooths! Dessert is especially essential for any celebratory event (aka a birthday cake to blow out candles)! Dessert is another area where you can really get creative with your theme/aesthetic. Again, search on Pinterest for dessert ideas to match your type of party- you will not be disappointed!
Entertainment
No one wants to go to a boring party. Think about how you can entertain your guests, and how they will fill their time at your party! Are they going to sit around and talk the entire time? Make sure that you have proper seating. Will they want to play games? Make sure to have a variety of games then that are suitable for the age group of your guests. Will they want to dance? Make sure that there is music and that you have speakers. Your entertainment does not have to be anything extravagant like a circus… unless that's your style. Simply make sure that you think about entertainment prior, and prepare to entertain your guests in whatever way suits your party… this often gets overlooked when planning!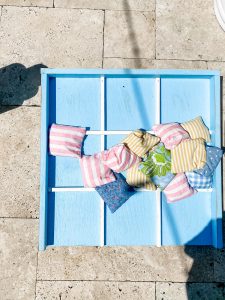 Drinks
Not only do they need food & dessert, but people get thirsty! From water to alcohol (age dependent), make sure that you have it covered! Think about the taste preferences of your guests & get drinks accordingly. Drinks are easy to provide a variety of options to meet all tastes.
A pretty little tip: get cups, straws, and/or drink markers to go along with your theme/aesthetic! It will add such a special & nice touch to your party that won't go unnoticed by guests!
Party favor
#justbecause who doesn't love a gift?! Sending guests home with a little something tops off your amazing party. If you are having a theme, make their gift a reflection of the theme! A party favor does not have to be anything extravagant or expensive; candy, a candle, or something homemade can do the trick! Bonus: write a little note to your guests thanking them for coming & attach it to the party favor! Everyone loves a personal touch.
If you focus on these seven guidelines to throw the perfect pretty party, you will be good to go! Stay creative, make it fun, & focus on why you are throwing this party (even though I highly encourage a party for no reason too!) 
Most importantly, during the party, make sure to ENJOY YOURSELF. If not, you are doing it all wrong! Prepare as much as you can before the party (gathering the food, setting up, etc) so that during it, you can spend time with your guests & appreciate all that you did for this event!
…now go get to party planning so that you can throw the perfect pretty party!
& Don't forget to check out my other blogs for all the latest pretty!
Xoxo, Rachel